Just like our skin, not everyone's scalp is the same. Dry, itchy, flaky, oily or dandruff-prone, each of these different types of scalp has its own needs. Understanding your scalp is key to knowing the right scalp treatment for you and the best products to have in your routine.
Scalp treatment tips for 5 common concerns
Looking for the best men's shampoo for dry scalp or the most effective way to take care of dandruff? It can be confusing to know which route you need to be taking, but luckily for you we're here to help. To find out the best men's scalp care treatment for your scalp type, simply keep on reading.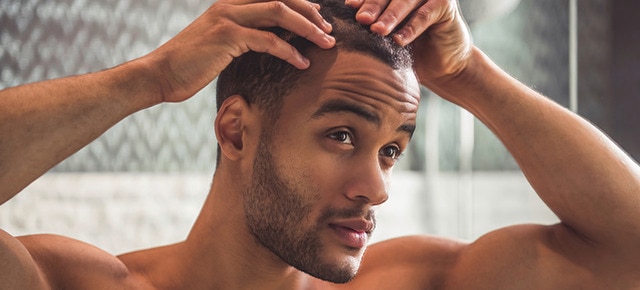 Dandruff
The best way to combat those pesky white flakes is to wash your hair regularly with an anti-dandruff shampoo. Dandruff can be linked to having a dry scalp, so to tackle this dryness while also targeting the dandruff itself, choose an anti-dandruff men's shampoo for dry scalp. You'll soon be flake-free* and feeling fresh again!
Dry
As mentioned above, dry scalps share a lot of the same traits as those suffering from dandruff. However, the most important point to remember when dealing with a dry scalp is that you should avoid over-washing. Washing your hair too much can strip the lipids on scalp, leaving it feeling tight, dry and uncomfortable. Our top tip? Make sure when you do wash your hair to use a moisturizing shampoo for men like which will help retain moisture and restore the balance of your scalp.
Itchy
Constantly fighting the urge to scratch? An itchy scalp can be a symptom of a number of conditions, ranging from dandruff to psoriasis and dermatitis. This can require prescription-only scalp treatments, so the best port of call is to see your doctor first so it can be properly diagnosed. For mild cases of itching caused by dryness and dandruff, the CLEAR Men Cooling Itch Control Anti-Dandruff Shampoo, contains eucalyptus and tea tree, to provide instant soothing relief.
Flaky
If you have a flaky scalp, the best way to fight the flakes is to use a deep cleansing shampoo that will remove this build-up on your scalp and help to keep your hair clear of visible flakes. We also suggest following up with a conditioner to prevent your hair becoming dry and brittle, as well as helping to moisturise your scalp to prevent further flakes appearing.
Oily
Oily scalp? Men's scalps are up to 60% greasier than female ones, so greasiness is a common concern. An oily scalp is caused when overactive sebaceous glands produce too much oil and cause hairs to stick together and look limp. If shampooing alone isn't cutting it, you can also try exfoliating with a scalp scrub once a week to gently lift away any stubborn oil or product build-up.
As always, if you're concerned about your scalp or your condition worsens, we recommend speaking with a healthcare professional for advice.
*no visible flakes with regular use